Product Features
$200 all day rental
Tropical Theme Color: Green, Yellow, Blue and Tropical Palm Trees
Entirely Manufactured Lead Free Commercial and DuraLite Commercial PVC Vinyl.
DuraLite Commercial Reduced Up To 50% Size and Weight.
Fire Retardant (FR) Vinyl with UV-Coated to Ensure Long Lasting Usage.
Slide With Replaceable Cover.
Climbing Lane With Replace Surfaces.
Water Gun Included.
Water Sprinkler System For Wet Dry Use.
Heavy Duty Netting Fully Encloses Play Area.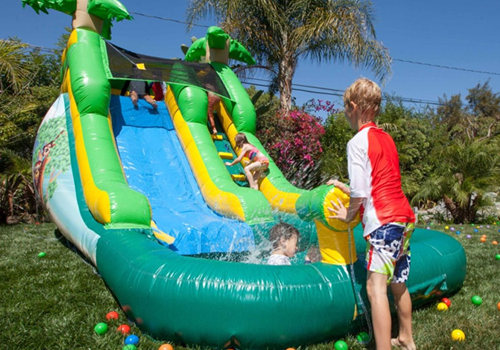 Product description
The 12' Commercial Hero Water Slides are the newest addition to our water slide product line. Riders climb from the left side and slide down the right side into the pool at the end. More splash fun with water guns.
Size and Dimensions
• Dimension L*W*H (ft.) : 20′ X 9′ X 12′
• Max Players: 2
• Max Gross Weight: 400 lbs
• Product Weight: 105 lbs