Product Features
Manufacturers recommend age: 3 – 11yrs
$100.00 daily
Approximately 13 x 13 x 14 feet total inflated size.
Complies with the Lead Free Toys Act.
Made of 100% commercial grade PVC.
Fun colorful castle design.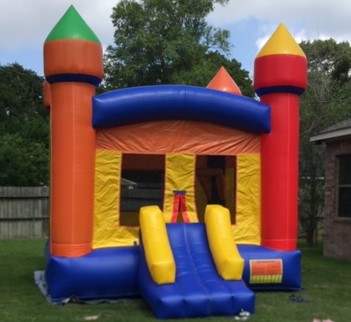 Product description
This commercial-grade Castle Bounce House by Inflatable HQ is constructed from 100% PVC vinyl, from its upright pillars and beams to its slide walls. All high-stress areas including the bouncing surface, mattress sides, bottom, and slide are made from industrial strength, 18-ounce (0.55mm) PVC. This (fire retardant and lead-free) puncture-proof PVC material is approximately 5 times stronger than nylon used in lesser-quality units as it won't tear, fade, get moldy, and it is far easier to clean. Additional belting reinforcement is used at key stress points, & heavy-duty, multilayer stitching is used throughout. An impressive 30" tall mattress provides excellent spring force and cushioning that allows for tall leaps and comfortable landings. This bouncer's roof shields children from the sun and features a safety escape hatch to exit in the event deflation occurs during a power failure. The wide, elevated front slide is a safe way to exit this bouncer rather than accidentally bouncing and falling out of the house and onto the ground. Large mesh windows made from rip stop netting won't tear like cheaper mesh and they allow children to be supervised. 12" heavy duty metal ground stakes to secure bouncer to the ground. All materials comply with the Lead Free Toys Act. Model: Castle. Grade: Premium, suitable for rental / commercial use. Capacity: Approximately 5 children (800 pounds total). Always use GCFI-protected receptacles/circuits and take caution to keep blower and power cords in dry locations. Make sure bounce house is secured to the ground prior to use. Never use in windy or other inclement weather. Dimensions: Approximately 14′ tall, base is 13′ x 13′ (16'-8" long including slide exit).